Foolproof Embroidery
by Mike Garner
Wouldn't it be nice if you could just accept orders for embroidery and hand them over to your decorator without putting any effort into it? Well, technically you could - but you and your customer probably wouldn't be too pleased with the results. That's because embroiderers need you to provide certain types of critical information to ensure that you get top-notch results. Here's a look at some of the important things you should always find out from your customer and convey to your embroiderer.
Starting off on the right foot
Good embroidery begins with good artwork, so this is where you need to put in the most effort. You've heard the saying, "Garbage in, garbage out"? Your embroiderer may be able to salvage low- quality artwork so that you don't get stuck with garbage, but giving him precisely what he needs goes a long way in making sure you're happy with the final product.
The best choice is clean artwork in vector format. If that's not available, at least provide a high-resolution image - 300 dots per inch (DPI) or higher. For left-chest logos, this artwork is generally about 2 inches by 4 inches. Also keep in mind the size of the lettering. Plan on having letters be no smaller than a quarter inch tall, or you may run into problems of legibility.
If you can't provide artwork at the quality level and format required, expect to pay art charges, which are usually set at an hourly rate. Most decorators have high-speed Internet connections and ample storage space for their computer systems, so don't worry about how large the artwork file is; too big is always better than too small.
Stitch counts sometimes come into play when you're trying to hit a particular price point for your customer, since the price of most designs is based on stitch count. If this is a concern, let the embroiderer know. In many cases, it is possible to digitize the design in such a way that it uses fewer stitches without affecting quality. Ideally though, it's best to let the digitizer use the stitch coverage and underlay he deems necessary for great-looking sewouts.
Where does it go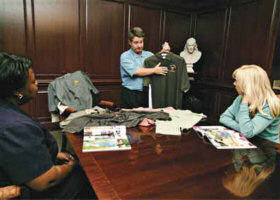 Next, the embroiderer will need to know the types of apparel on which the design will be applied. The size of the design and the type of fabric affect how a design is digitized. So if it will be sewn on a cap and a jacket back, for example, adjustments will need to be made and you actually need two digitized files. (Digitizing is the process by which a design is "translated" into a format that the embroidery machine can understand and stitch.) At a minimum, the digitizer will probably have to digitize it one way for the jacket and edit it for the cap. In general, it's less expensive to have a design edited at the time of the original order. If you come back later and want a jacket design on a cap, it will most likely incur a higher editing charge.
Let your embroiderer know if you want your design in some place other than a traditional location; otherwise, he will use standard industry placements. If you have a nonstandard placement - such as a design on the cuff or collar, or a left-chest logo that needs to sit unusually high for some reason - the embroiderer needs to know. In rare occasions when you need something odd embroidered, such as an odd-shaped golf bag or something requiring special hooping to get it onto the machine, the embroiderer may request to see a sample. The embroiderer will want to make sure he or she can embroider on your item and will want to notify you if there are any limitations. You should also expect higher charges for more difficult items.
You may also want to ask in advance about minimums. At larger shops, minimums usually begin around 36 pieces. Many small shops will not have a minimum, but expect to pay higher prices for smaller quantities. If you have a good relationship with your embroiderer, you may be able to make arrangements to get smaller quantities for fill-in orders after the initial order is placed.
When mistakes happen
What happens when you order 36 caps and your embroiderer damages two of them? Does the embroiderer have to order and pay for the extra caps, or do you? While a 1 percent loss is fairly standard, be sure to ask your embroiderer about his or her policy. Some may charge higher embroidery prices across the board because they guarantee to replace any ruined items; in a sense, you're paying insurance.
Also, you may want to get in the habit of ordering a few extra items, just so you're never short. Worst case, you'll have a few samples to show other customers or to send to the embroiderer for reference when placing a repeat order.
No matter how many items you order, it's standard to have the vendor drop-ship garments directly to the embroiderer. It's your responsibility to send the embroiderer a complete list of what to expect. This list should include sizes, styles, colors and quantities. The more detail you provide, the less chance of a mistake. Most embroiderers will check the order when it arrives against your list and let you know if everything is correct.
Pricing issues
Digitizing costs vary widely, but universally, they've fallen from the prices of yesteryear, when they were around $20 per 1,000. Today, some offshore companies charge as little as $3 per 1,000 stitches, while domestic companies will probably be $8 or higher per 1,000. Other digitizers charge on a per-design basis, with prices varying depending on an item's complexity.
As far as the embroidery, prices are also generally based on a per-thousand stitch rate, which is multiplied by the number of pieces. For instance, an embroiderer might charge 25 cents per 1,000 stitches on 1,000 pieces. Also, many embroiderers have a per-garment minimum. The more stitches in the design, the longer it takes to sew out and the higher the cost.
Generally, the number of colors in a design doesn't impact pricing because most embroidery machines can handle at least a dozen colors without thread changes, and the vast majority of designs won't have more colors than that. Today, most embroidery is done in polyester, rather than rayon thread, because it's slightly less expensive and more durable. However, you may be charged slightly more for special effects such as metallic thread or 3-D embroidery, which has a raised look achieved by sewing over foam. Although metallic threads have greatly improved, it is sometimes necessary to slow down the machine to avoid breaks, and therefore, may involve a higher cost. The thread itself is also more expensive.
Giving the go-ahead
It is highly recommended to always see a sewout from the embroiderer before going into production to avoid surprises. The embroiderer may need to adjust a design slightly so it looks better or he may have gotten a color wrong. You want to catch problems ahead of time to ensure the results are acceptable to your customer.
Sewouts are provided three ways. The preferred method is to go to the shop to see a sewout or have one mailed to you. This is especially important when working with a shop with whose work you are not familiar. However, it is common practice, once you are established with an embroiderer and are familiar with the quality of work, to have your sewout e-mailed to you or posted to a Web site for approval. In this case, the embroiderer provides either a simulated stitch file or will scan the sewout.
Depending on the order size, expect a turnaround time of about 10 working days. Some of the industry's more advanced shops allow you to check order status online and many provide updates via e-mail. In any case, you should be able to get a prompt response to an order status inquiry.
Without a doubt, good communication is the key to getting good embroidery for your customers. By doing everything on your end to gather and communicate the critical information your embroiderer needs - thus leaving the embroiderer to assume absolutely nothing - you'll help ensure that you and your customer are completely satisfied with the final product.
Mike Garner is a sales representative and embroidery software specialist at MESA. He has been in the embroidery industry for 24 years, during which time he has run his own embroidery and digitizing shop.