HoopMaster Hooping Aid
The Hoopmaster is simple in design and built to withstand the punishment of a commercial environment. Even the most inexperienced embroiderer will find it easy to use, hooping quickly and accurately in no time at all. Your productivity and profitability will increase as well as the quality control your customers deserve. Put this innovative system to work for you. Since time IS money, rest assured that the HoopMaster will quickly pay for itself.
Click here to download the Hoop Master brochure.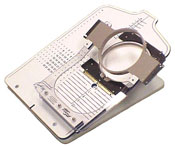 Chest Plate Station

Hoop Fixture
Sleeve Station
Two Fixture Hooping Kit
Chest Plate Station
Sleeve Station
2 Hoop Fixtures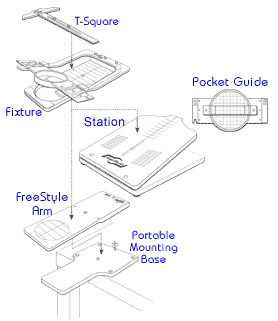 Single Fixture Hooping Kit

This set includes:
1 Hoopmaster Station
1 Fixture (any size)
1 Freestyle Arm
1 Portable Mounting Base
1 Pocket Alignment Guide
1 T-Square


Unique Features:
Magnetic Backing Material Holder
Holds backing material taut and in place
Flexible Support Arms
Supports and squares the tubular hoop
Number and Letter Grids
Used to document logo placement for consistent embroidery
Add an Additional Fixture:
size 12 cm, 15 cm, 18 cm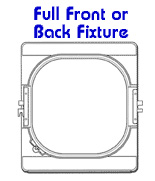 Add a full front or back fixture
12" x 12" (312 x 312 mm)

Jacket Backs Available:
16" x 17" (419 x 439 mm)
16" x 14" (357 x 412 mm)
18 5/8" x 12" (470 x 300 mm)
Important notice: All parts and supplies shipped by MESA will require a signature upon delivery. If you need to make other delivery arrangements, please call 1-800-330-3867.